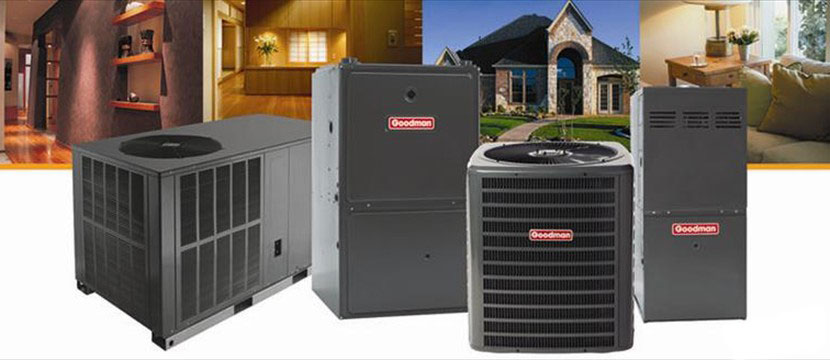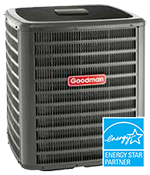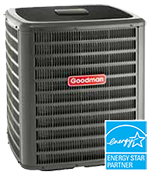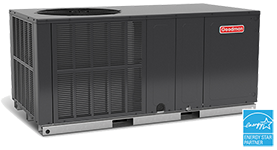 Goodman
Goodman® is one of the biggest names in home cooling, heating and energy-efficient home comfort. That's because Goodman lives up to its name in a big way, with time-tested energy-efficient technology, highly durable materials, and spot-on manufacturing. So, no matter where you live or whether your home is small or large, Goodman probably has a solution to help keep your home comfortable.
Central Air Conditioners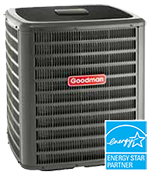 Goodman brand heating and cooling systems are designed to provide refreshingly affordable and energyefficient indoor comfort solutions using advanced technology. But the company ultimately adheres to some old-fashioned values, too. Goodman believes in the integrity of the American worker. That's why Goodman brand heating and cooling systems are designed, engineered and assembled in the United States. 
Heat Pumps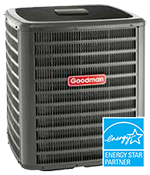 The best heat pump is the kind you don't have to think or worry about. It comes on the moment you need it and then runs quietly and efficiently all year long as needed. The Goodman DSZC18 is loaded with features designed to provide outstanding performance for years to come. We use advanced techniques and materials so you know the cozy, even temperature you feel in every corner of your home is an energy-efficient trend that's designed to stay for many years.
Packaged Units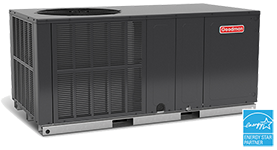 Our complete line of packaged systems are priced to help add comfort to your budget from a local independent Goodman dealer. And that's only the beginning. We want you to smile every time you open your utility bill, so we design energy-efficient technology into our units.
Standard Warranty
We were the first company among HVAC manufacturers to offer 10-year Parts Limited Warranty* coverage on all functional parts. In January 2005 we became the only HVAC manufacturer to offer a Lifetime Compressor Limited Warranty* on the compressor in our air conditioning products and a Lifetime Heat Exchanger Limited Warranty* on the heat exchanger in our furnaces. On select gas furnace units we offer a 10-Year Unit Replacement Limited Warranty.* If the heat exchanger fails in the first 10-years of operation, we'll provide a new equivalent replacement furnace as long as you own your home. Limited Warranties like these can only come from a company that is 100% certain of the quality and reliability of its products. When you choose the Goodman brand not only will you receive exceptional value, you'll also get the best quality that we can offer.
 "Thank Goodness for Goodman."
Full details on all limited warranty coverage are available for each of our featured products. To view the warranty certificate for a specific product, please click on Product in the left navigation bar and then select the product of choice. At the top of the product page you will find a "Warranty" link to the warranty certificate. You can also get a copy of the warranty from any dealer.
When it comes to worry-free limited warranties, the Goodman brand stands behind its products equal to any other brand in the indoor comfort industry.
* To receive the 10-Year Parts Limited Warranty, Lifetime Compressor Limited Warranty, Lifetime Heat Exchanger Limited Warranty (both good for as long as you own your home), and 10-Year Unit Replacement Limited Warranty online registration must be completed within 60 days of installation. Online registration is not required in California or Quebec.
Your FREE service call awaits!
754.300.1502
We are always ready to show our customers why we are the #1 choice in Air Conditioning service for all of Coral Springs!
Dial Now
754.300.1502
.